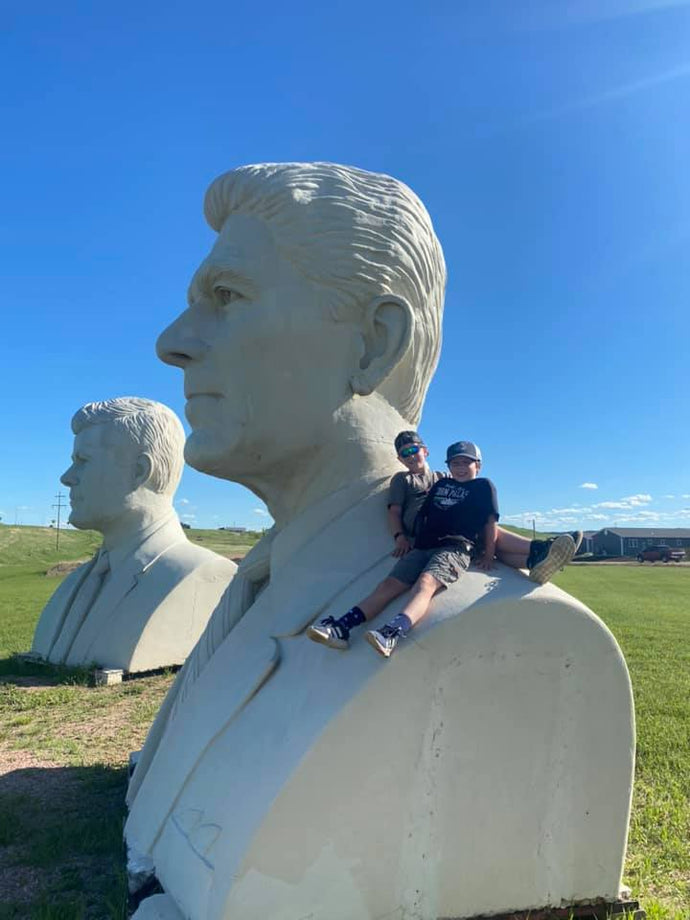 WHERE TO STAY - Southern Hills RV - Hermosa, SD
WHAT TO DO - Custer State Park (Wildlife Loop)
Today we are headed toward Rapid City. I remember my parents taking this trip and talking about the skyline, the hills and ALLL of the Windmills.  I have to be honest and say that the windmills were mehhh to me when I heard about them.  It's because I could not visualize in my own mind the enormity of them or just how vast they span.   As I saw the first field full of them, my jaw fell open and I laughed because for the first time I understood what they were talking about.   They truly are longer than the length of an 18 wheeler.  Even with me discussing it, you will never appreciate it without personally seeing it. 
Along the journey, I was just relaxing and reading. I looked up and froze.  Over a hill and peering thru a bridge to see hills of green, the most gorgeous display of clouds and the rushing Missouri river.   I literally gasped out loud. 
Fields full of cows, hay, silos.  They say that the average farmer has 1,344 acres of land.   My parents continued the joke of the cows that live on hills have two legs that are shorter than the other and that they can only walk one direction in a circle around the mountain or they will fall down.   I crack up watching the boys question if they should believe them or not.   THE VERDICT - 1 does and 1 does not. 
CUSTER STATE PARK 
I woke up in Awe of how gorgeous this "Land I Love" is. As I sit seeing the sunrise in Souther Hills RV park I'm reflecting on all of God's creations that I saw yesterday.  Breathtaking and shocking all at the same time. 
Have you ever seen a Buffalo/Bison in person?  These beasts are "ginormous", but seem so calm and expectant that we would be coming. 
Within 5 minutes of entering Custer State Park, we were slowly drive around a curve and had to immediately hit our breaks.  3 Buffalo/Bison were in the middle of the road.  It's flabergasting how huge they are.  They literally walked within touching distance of our car.  This occurred several times as we winded thru the Wildlife Loop.  Throughout the loop we saw ever-changing terrain for a couple of hours.  We saw deer, turkeys, bison, rabbits, beevers and antelope.  
Earlier, Brandon had the pleasure of an antelope running in front of the bus while he was driving.  Needless to say, we are lucky we didn't have a puddle in the middle of the floor. 
NEEDLES HIGHWAY
How in the world do you drive from hills and grass to a forest of of Rock.  The magnitude of this is indescribable.  I even look at the pictures and realize that they do not express how enormous these rock are.   They were of all different heights, shapes, colors....... I even had the pleasure of driving  thru one way tunnels that were only 8' wide.   I still cannot believe they let me. LOL! 
What a spectacular day.  
WE ARE BETTER FOR LIVING IT!  ALL THE GLORY TO GOD FOR HIS CREATIONS!!